Myopia is reduced from 600 to 0, which is reliable
The release date:2019-10-16
The summer vacation is coming. Recently, a warm-hearted parent left a message on Aier Eye website, which reads as follows:
The child has a summer vacation. He likes playing mobile phones very much. He is nearsighted since the first grade of primary school. He is worried about the degree of nearsightedness. Excuse me, if the child is nearsighted, is there any way to restore his vision? Or can he control the deepening of nearsightedness? It is said that acupuncture and massage are effective in treating nearsightedness. Is it credible?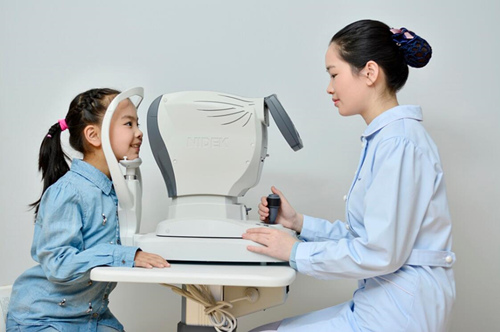 Generally speaking, the emergence and deepening of myopia are affected by two factors: one is Congenital heredity, parents or elders with myopia, the probability of children's myopia is higher than that of ordinary people, and the other is acquired bad habit of using eyes. Parents should reduce their children's time of addicting to electronic products. If they are addicted to mobile phones, iPad and other electronic products too early, myopia will appear or deepen.
Scientific research has long shown that acupuncture and massage have no therapeutic effect on true myopia. Professor Yang Zhikuan, deputy head of the optometry group of the ophthalmology branch of the Chinese Medical Association, doctoral supervisor of the school of Ophthalmology, Central South University and director of the Institute of Ophthalmology, said that since the under-18-year-old is not suitable for myopia surgery, the keratoplasty mirror is one of the non-surgical safety methods that can effectively control the deepening of myopia and have clear naked vision in the daytime.
There are two significant advantages of the Keratoplastic mirror. One is that compared with the frame glasses, the Keratoplastic mirror has a significant effect in controlling the growth of myopia. The other is that the Keratoplastic mirror can only be worn at night, without glasses in the daytime, it can have a clear naked eye vision all day, with unlimited movement and life. However, although it is good, it has strict matching requirements:
8 to 50 years old;
The astigmatism ratio of myopia is more than 2;
The corneal curvature was more than 39d and less than 46d;
Intraocular pressure was between 11 and 21 mmHg;
Eye health, good hygiene habits.
You may not care about
WeChat attentionLove, new hope
Eye eye early know love
Love, new customer service center
Support WeChat reservation consultation